Mission Artificial Intelligence (AI) and its AI Bootcamp & Codethon
Poster making Competition on Earth Day
Poster making Competition on Earth Day on April 20,2021 for Classes IX , X & XII. Last date of Submission: April 22, 2021
*International Labour Day* Activity
Hon'ble Minister of Education, Govt. of India will interact with girls' students on 8th March 2021. The programme will be organized from 11:00 to 11:30 AM.
The link for watching the programme on Youtube is :
https://youtu.be/p0d-Lr-lJ40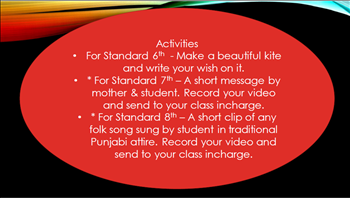 Activities:
Make a beautiful Kite and write wish on it.
A short message by mother & student
A short clip of any folk sing sung by stuudent in traditional Punjabi attrire
Registration process for the academic Session(2020-21)
Dear Parents, The school's contact number/ mobile will be in working from 07:40 am to 11:40 pm daily for your convenience. Please feel free to contact for any type of problem or query. We will try our best to clear your doubts. Stay Home, Stay Safe.
SINGLE GIRL CHILD SCHOLARSHIP - DETAILS AVAILABLE IN DOWNLOAD SECTION
Assignments of Class (Nursery - I ) are available in Downloads
HOLIDAY'S HOMEWORK IS AVAILABLE UNDER ACADEMICS TAB
HOLIDAY'S HOMEWORK IS AVAILABLE UNDER ACADEMICS TAB
Registration process for the academic Session(2020-21)
Poem Recitation Competition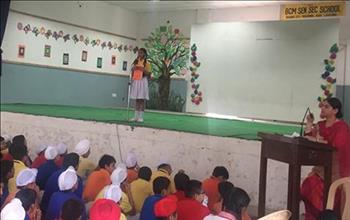 Poem Recitation Competition
(Topics : Frienship, Teacher, War)